Optima
Optima-LS premium low starch pelleted feed made with highly digestible, Omega-3 rich ingredients.
Optima-LS is a premium low starch pelleted feed made with highly digestible, Omega-3 rich ingredients like flax and rice bran. Suitable for both easy and hard keepers, seniors, and growing youngsters, balanced for horses of all ages. No whole grains, NO CORN, NO OATS and NO MOLASSES. Optima-LS is scientifically formulated to be easy on the digestive tract. High fiber provides energy without excitability or nervousness. A great feed for insulin resistance, Cushing's and laminitis. Optima has 4% simple sugar and 9% starch.
Optima - Guaranteed Analysis
| | |
| --- | --- |
| Crude Protein, Min | 14% |
| Lysine, Min | 0.80% |
| Methionine, Min | 0.20% |
| Threonine, Min | 0.35% |
| Crude Fat, Min | 6% |
| Crude Fiber, Max | 21% |
| Acid Detergent Fiber (ADF), Max | 26% |
| Neutral Detergent Fiber (NDF), Max | 41% |
| Calcium, Min | 1.0% |
| Calcium, Max | 1.5% |
| Phosphorus, Min | 0.60% |
| Salt, Min | 0.5% |
| Salt, Max | 1.0% |
| Copper, Min | 55 ppm |
| Selenium, Min | 0.60 ppm |
| Zinc, Min | 165 ppm |
| Vitamin A, Min | 5,000 IU/lb |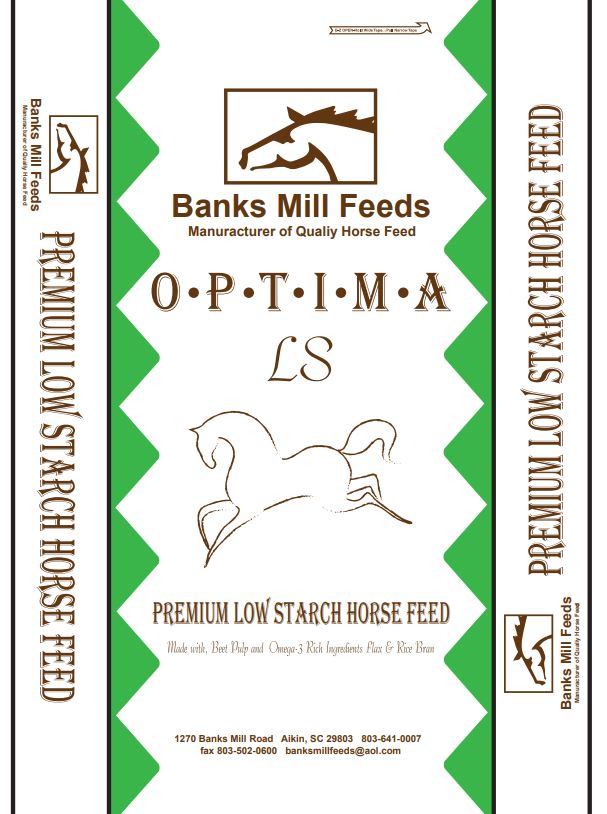 Ingredients
Soybean Hulls, Wheat Middlings, Dehydrated Alfalfa Meal, Beet Pulp, Dried Molasses, Ground Flax Seed, Dehulled Soybean Meal, Vegetable Oil, Heat Stabilized Rice Bran, Calcium Carbonate, Lignin Sulfonate, Brewers Dried Yeast (Saccharomyces Cerevisiae), Salt, Organic Dried Kelp, Monocalcium Phosphate, L-Lysine, Potassium Chloride, Biotin, Vitamin A Supplement, Thiamine Mononitrate, Vitamin E Supplement, Riboflavin Supplement, d-alpha Tocopheryl Acetate, Calcium Pantothenate, Niacin Supplement, Vitamin D3 Supplement, Vitamin B12 Supplement, Menadione Sodium Bisulfite Complex, Manganous Oxide, Dicalcium Phosphate, Zinc Oxide, Copper Sulfate, Magnesium Oxide, Deflourinated Phosphate, Ferrous Sulfate, Potassium Iodide, Cobalt Carbonate, Sodium Selenite, Peppermint Flavor, Choline Chloride, Methionine, Calcium Iodate, Manganese Sulfate, Zinc Sulfate, Calcium Sulfate.
Feeding Directions
Feed Banks Mill Optima to mature horses according to your nutritionist's instructions. Or, feed at the rate of 1lb per 100lbs of body weight to achieve desired growth rate and body condition. Good quality hay or pasture along with clean fresh water should be provided at all times.
Make feed changes gradually over 10-14 days.
Never feed more than 5 lbs / 1000 lbs Body Weight in a single meal.
If your horse has difficulty swallowing, teeth issues, is an aggressive eater or naïve to pellets, this feed should be soaked in a small amount of water.
Reminder: Feed is perishable. Store this product in a cool, dry area away from insects. Do not feed moldy or insect–infested feed.
Warning: Do not feed to sheep. This products contains added copper at levels that may be toxic to sheep.
Where to Buy
Banks Mill Feeds are available at select retailers and at the mill.